View All Galleries
Thailand Travel Planning is the summary of my two-month trip to Thailand during the winter/ spring of 2019 (mid-February to mid-April). The pace of traveling was medium, meaning:
I had a single-entry tourist visa which allowed me to stay in Thailand for a limited amount of time (60 days)
to get my above-mentioned visa, I had to show a round-trip plane ticket to the Thailand Embassy in Bucharest so it didn't worth to cancel it and to extend my stay in Thailand for one more month (the maximum period a tourist can get a visa in Thailand is 90 days)
I couldn't go wherever I wanted in Thailand due to the above-mentioned facts. This means I had to read the whole Thailand guidebook and decide where were the most interesting places for me to go in Thailand for a period of 60 days
even though I was about to go past many interesting places, I couldn't stop wherever I wanted because I avoided to rent a car and drive by myself in the terrible traffic in Thailand
eventually, I chose mostly touristic places to go as it was easier for me to find public transportation (bus/ minibus/ train)
because I relied only on public transportation, I had to keep in mind to add a whole day for transportation from point A to point B (traffic in SE Asia may surprise with its 'tremendous' speed)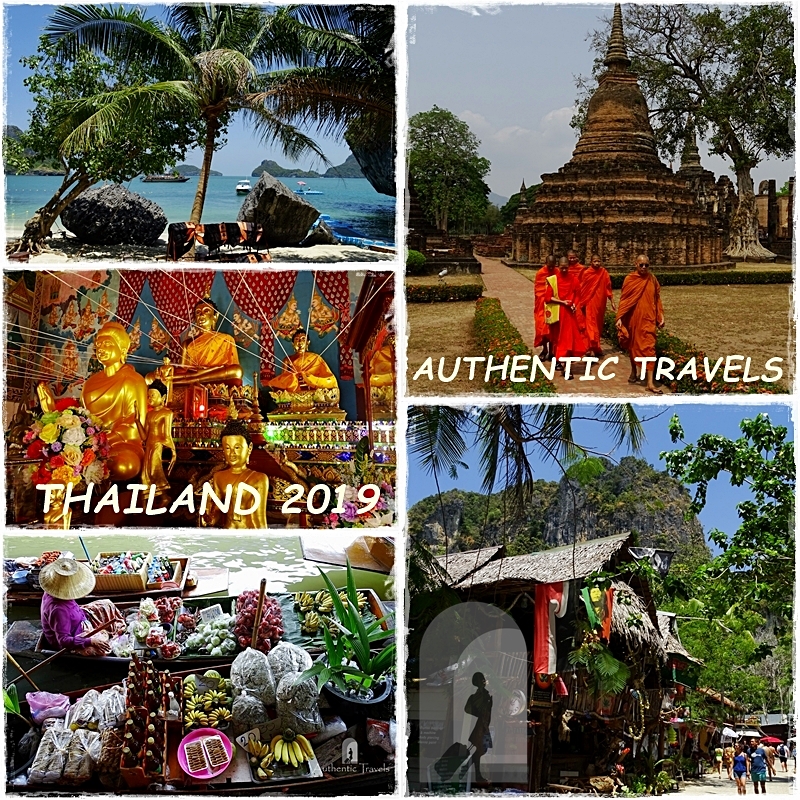 Thailand Travel Planning – General Planning:
My travel planning for Thailand started almost five months before the trip. I knew I had to show all my accommodation bookings to the Thailand Embassy in order to get my tourist visa so I took this thing very seriously (usually I don't book everything ahead and I prefer to stay more flexible). Of course, I could have canceled the bookings and made new ones but since I bothered to book something, I did it with a serious intent. I used the Lonely Planet Guide and also read some articles about Thailand on the internet. I considered that the guide book offered me enough, very well synthesized information to plan my trip (reading hundreds of articles on the internet gets me crazy and more confused). From the guide book, I could choose the places where I wanted to go during a period of two months – touristic places, UNESCO heritage sites, as well as a few off the beaten track places (unfortunately not so many off the beat places as I would have liked).
Thailand Travel Planning – Fixed Plans:
Before leaving to Thailand, I planned exactly where to go and for how long to stay. I booked all the accommodations (100%) and contacted a few hosts in the region of Chiang Mai (north of Thailand) where I was planning to stay for almost 2 weeks (including the Songkran – the New Year Celebration in Thailand). I could have canceled the accommodations if something came up but in the same time, it was good to have the possibility to choose the best rooms and locations far ahead (especially during the Songkran period – 13-15 April, when everything is full). Therefore, I had:
– my round trip plane ticket Romania – Qatar – Thailand, which I bought almost two months and a half in advance
– a domestic one-way plane ticket in the northern part of Thailand, from Mae Hong Son to Chiang Mai. I chose to buy a plane ticket because: the road from Chiang May to Mae Hong Son lasted at least 8-10 h; I couldn't make a circuit between the two destinations so I would have seen the same road twice; and domestic flights were very cheap.
– accommodations in Phuket, Krabi, Ko Lanta, Koh Samui, Ko Pha Ngan, Pletchaburi, Bangkok, Kanchanaburi, Ayuthaya, Lopburi, Sukhothai, Lampang, Phayao, Chiang Rai, Mae Salong, Chiang Mai, Pai, Mae Hong Son, back to Chiang Mai (where I had two local hosts waiting for me during the Songkran)
– a few CouchSurfing & Showaround contacts + another Romanian guy who lived in Thailand (they could have helped me with information, accommodation, and phone calls if anything happened to me in Thailand during my stay)
– two Couchsurfing requests accepted in Chiang Mai and around (I messaged to my hosts before my departure to Thailand as I knew I wouldn't have time for messages during my stay in Thailand)
– maybe a collaboration with a local bungalow camp in the Hill Tribe Villages: I wrote about ….. in exchange for free accommodation.
Thailand Travel Planning – Intentions, but nothing fixed
When I left for Thailand, I wanted to do/to go to the following places but I hadn't fixed dates for them:
– do some short treks in some of the hill tribe villages in the northern part of Thailand:
Mae Salong (a Chinese outpost surrounded by hill tribes)
Pai – Soppong region
Mae Hong Song (the long-neck women)
– explore and do some short treks in Thailand's Southern islands:
Ko Pha Ngan
Ko Samui
Phuket
– do the first snorkeling of my life (must-do around Ko Pha Ngan or Ko Tao islands)
– sunbath and swim in those turquoise crystal-clear waters of the Andaman Sea
– rent a scooter to easier tour the villages as a day trip from my fixed destinations (this depended on how long it took me to visit the main destination and only if I had had spare time, I would have toured the surroundings too)
– visit a wildlife reserve somewhere
– visit an elephant sanctuary somewhere
– visit at least one national park and a waterfall with pools
– go to at least one floating market near Bangkok (must-see Damnoen Saduak floating market and Maeklong Train Market, somewhere between Pletchaburi and Bangkok)
– a ticket at the Baiyoke Observation Deck with Sky Dining Buffet in Bangkok (lunch on the 76th and 78th floor, observation deck on the 77th floor, revolving view point entrance on the 84th floor)
– a dinner cruise in Bangkok
– take a day trip from Chiang Rai to the Golden Triangle in northern Thailand: cruise on the Mekong River at the border between Thailand, Laos, and Myanmar
– go to at least one place with hot springs (probably somewhere near Chiang Mai)
– swim in the pools of one of the many waterfalls in Thailand (probably somewhere near Chiang Mai)
– maybe go for a short meditation retreat in a Buddhist Monastery near Chiang Mai (maybe Doi Suthep Monastery)
– in case the above-mentioned monastery hadn't answered my application, go at least to some meditations, ceremonies, monk chats in Chiang Mai
Thailand Travel Planning – Final Result:
The final result of my trip through Thailand, where I stayed for two months, is a series of ……. travel diaries (which I am writing now). Enjoy your reading and let me know your opinion about Thailand. Which is your favorite place in Thailand? Why?
Southern Thailand – Phuket, Krabi, Ko Lanta Islands (7 days)
flight from Bucharest (Romania) to Phuket (Thailand) with 2 layovers in Doha (Qatar) and Bangkok (Thailand) – 19 h in total
explored Patong -Phuket for one day
bus ride from Patong to Phuket; explored Phuket old town for one day
half day Phuket island tour
full day boat trip to Phang Nga Bay: Phuket Ao Po Pier – Kkao Ta Poo – Koh Panyee – Hong Island – Panak Island – Naka Island
minibus from Phuket to Krabi and explored Krabi town and surroundings for a whole afternoon
boat trip from Krabi to Railay and explored Railay for a full day
minivan from Krabi to Ko Lanta; explored Lanta old town
scooter trip around Ko Lanta
From Ko Lanta to Bangkok – Koh Samui, Ko Pha Ngan, Pletchaburi, Floating Markets (Amphawa, Damnoen Saduak)
minivan, bus, ferry trip from Ko Lanta to Koh Samui (12 h!)
explored Koh Samui island for two days
short ferry trip from Koh Samui to Ko Phangan
one day boat trip to Angthong Marine Park: Koh Wao – Mae Koh – Koh Wua Talap
explored Koh Phangan for one entire day
ferry, minivan, bus, train combo trip from Koh Phangan (Thongsala) to Pletchaburi
explored Pletchaburi for one day
minibus from Pletchaburi to Maeklong; explored Maeklong Railway Market and Amphawa Floating Market
tuk-tuk half day round trip from Amphawa to Damnoen Saduak Floating Market; minibus from Amphawa to Bangkok Pin Klao Bus Terminal
One full week in Bangkok (7 days)
explored China Town
explored Ko Ratanakosin
explored less touristic temples in Banglamphu
sky lunch buffet at 82nd floor of Baiyoke Hotel
relaxing day in Lumphini Park; visited Jim Thompson's teak mansion
visited the Grand Palace; Khon Thai Masked Dance at the Royal Theater
relaxing, rainy day in Bangkok
A week around Bangkok – Kanchanaburi, Ayutthaya, and Sukhothai
train from Bangkok Thonburi to Kanchanaburi
explored Kanchanaburi for one day
train round trip from Kanchanaburi to Namtok
minivan from Kanchanaburi to Ayutthaya
explored Ayutthaya's temples and surroundings by bicycle for 3 days
bus trip from Ayutthaya to Sukhothai
explored Sukhothai's historical zone for two days
From Sukhothai to Chiang Rai, past Lampang and Phayao off the beat
bus trip from Sukhothai to Lampang
explored Lampang for one day
bus trip from Lampang to Phayao and explored Phayao in the afternoon
One week in Chiang Rai and Chiang Mai
short bus trip from Phayao to Chiang Rai
one day hiking hilltribe villages around Chiang Rai
explored Chiang Rai and its surroundings for one day
one day round trip around Chiang Rai and the Golden Triangle
relaxing day in Chiang Rai
bus trip from Chiang Rai to Chian Mai
explored Chiang Mai's old city and surroundings for two days
Hiking the long-neck hill tribes – Pai and Mae Hong Son
minivan from Chiang Mai to Pai
explored Pai and its surroundings for almost three days
minivan from Pai to Mae Hing Son
bicycle trip to and hiking in Nam Tok Mae Surin National Park
one day private car tour around Mae Hong Son to Myanmar's border
explored Mae Hong Son for half day and flight from Mae Hong Son to Chiang Mai
Songkran Festival in Chiang Mai and around
enjoyed 2nd and 3rd day of Songkran in Chiang Mai
one day trip to Mae Wang Elephant Sanctuary
half day songtaew trip to Doi Suthep
one day trip to Doi Inthanon
relaxing day in Chiang Mai
flight from Chiang Mai (Thailand) to Bucharest (Romania) with layovers in Bangkok (Thailand) and Doha (Qatar) – 32 h in total
This is the summary of my two-month trip to Thailand. Enjoy your reading and let me know your opinion about traveling to Thailand. Which is your favorite place in Thailand? Why? Where would you go?