View All Galleries
Tunisia Travel Planning is the summary of my one-month trip through Tunisia during the autumn of 2022 (September). The pace of traveling was slow and flexible. I could go and stay wherever I wanted with a rented car.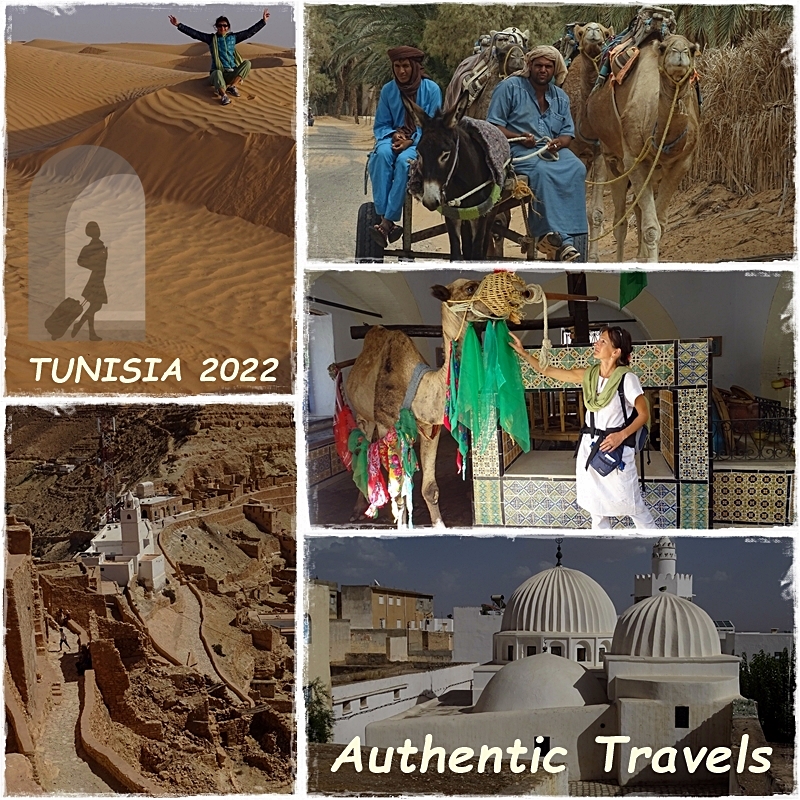 Tunisia Travel Planning – General Planning
The travel planning for Tunisia started two months before the trip. I used only the Lonely Planet Guide and ignored any other articles about Tunisia from the internet. I considered that the guide book offered me enough, well-synthesized information to plan the trip. I could choose the places in the guide book where I wanted to go for one month – tourist places, UNESCO heritage sites, as well as off-the-beaten-track places.
Tunisia Travel Planning – Fixed Plans
Before leaving to Tunisia, I had booked/ contacted/ written / messaged:
– a car, which I booked a few days after buying my flight tickets (I haven't paid the whole amount for it though, it was a 'pay at location' booking, so I was a bit nervous they wouldn't have a car for me)
– a flight ticket, which I bought almost two months in advance
– several Couchsurfing contacts who could have helped me with information, accommodation, and phone calls if anything happened to me in Tunisia during my stay
– several Couchsurfing requests accepted in Tunis, Tabarka, Monastir, and Nabeul (I messaged the hosts before the departure to Tunisia as I knew I wouldn't have time for messages during my stay in Tunisia)
Tunisia Travel Planning – Intentions, but nothing fixed
When I traveled to Tunisia, I wanted to do/ go to the following places (but I hadn't fixed dates for them):
– stay in local, traditional camps or dars (small palaces) as much as possible and enjoy their elaborately Oriental style
– stay with a local family and join them for dinner in the evening (maybe eating with hands and/ or sitting on the floor around a low table)
– explore local fortified mud-brick villages (ksar, or qsar) as well as the oases and desert in the south of the country
– explore as many medinas as possible (such as Tunis, Kairouan, Sfax, Mahdia, Monastir, Sousse, Tozeur)
– explore the troglodytes caves in Matmata and Tataouine
– explore the canyons and waterfalls near Tozeur and maybe some Star Wars filming locations
– join a camel trek in the Sahara Desert from Douz or Ksar Ghilane
– smoke shisa – ok, maybe just for the sake of a photo
Tunisia Travel Planning – Final Result
This is the final result of my trip to Tunisia, where I stayed for one month. Enjoy your reading and let me know your opinion about Tunisia. Which is your favorite place in Tunisia? Why?
Tunis (5 days)
flight from Bucharest (Romania) to Tunis (Tunisia) with a layover in Paris Charles de gaulle Airport (France), more than 12h in total
explored Ville Nouvelle (the French architecture)
explored the old medina for two full days
day trip from Tunis to Carthage Hannibal (8 ancient sites of Roman period) by TGM train
day trip from Tunis to Sidi Bou Said by TGM train
explored the Corniche in La Goulette, La Marsa, and Grammath
The Northern Mediterranean Coast (2 days)
road trip from Tunis to Bizerte, with a detour to Ichkeul National Park
road trip from Bizerte to Tabarka, trying to reach Cape Angela (the northern most African cape)
From the Mediterranean to the Desert (5 days)
road trip from Tabarka to El Kef, via Bulla Regia Roman site
explored fabulous El Kef
explored Dougga Roman site
road trip from El Kef to Tozeur, with a detour to Sbeitla Roman site
explored Tozeur and its surroundings (Star War decoration sites & Ong Jemal)
day trip to Chebika, Tamerza waterfalls, and Mides canyon
Southern Tunisian Desert (one week)
road trip from Tozeur to Douz
day trip to the sand villages around Douz – Es Sabria, El Faouar, and Noualin; overnight in the desert
road trip from Douz to Matmata, via Tamezret
explored Matmata and its surroundings (Berber troglodytes houses & cave hotels)
road trip from Matmata to Ksar Ghilane (in the big Erg of the desert)
explored Ksar Ghilane and its surroundings (2 days)
road trip from Ksar Ghilane to Tataouine, via Ksar Hadada and Toujene
road trip from Tataouine to Djerba island, via Ksar Ouled Soltane, Douiret and Chenini Berber villages
The Eastern Mediterranean Coast (10 days)
explored Djerba Island, with Houmt Souk and the surrounding underground mosques
road trip from Djerba Island to Sfax, via Midoun
explored Sfax (Ville Nouvelle & medina) for a full day
road trip from Sfax to Monastir, with a detour to El Jem and Mahdia
explored Monastir for a full day
day trip from Monastir to Souss medina by metro
road trip from Monastir to Kairouan
explored Kairouan for a full day
road trip from Kairouan to Soliman, with stops in Hammamet and Nabeul
late night flight from Tunis (Tunisia) to Bucharest (Romania), with a night layover in Paris Charles de Gaulle (France)
This is the summary of the one-month trip to Tunisia. Enjoy your reading and let me know your opinion about traveling to Tunisia. Which is your favorite place in Tunisia? Why? Where would you go?