Here are just a few words about me, Iuliana Marchian. I had to write this first sentence in order to improve the SEO of this page and rank higher in Google for the keyword Iuliana Marchian. If you'll see my name repeated several times, it's because of SEO.
My life motto is simple yet comprehensive: "We live only to discover beauty. All else is a form of waiting" (Khalil Gibran, poem 'The Prophet')
Background in architecture, historic monuments, and cultural tourism
Professionally, during the past 20 years, I've focused on issues of cultural heritage and resilience tourism, based on my specialization in historic monuments. I graduated from Architecture, then I completed two master programs and a doctorate in the field of both cultural tourism and restoration of historic towns. I became a member of various cultural and touristic organizations, among which the International Council on Monuments and Sites (ICOMOS).
Then, at a certain moment, I decided to change the course of my carrier and became a travel writer & tour guide. Honestly, my gift isn't teaching students. Whereas working in an office was definitely not for me. I needed to have freedom and to be able to explore the beauties of the world (as my motto says, right?). Not only I started to travel more and for longer periods, but I started the travel of my life, through life.
Travel writer and author 
As part of the Essentialist team, I am a travel expert editor for the Balkan region where I design tailored trips out of the unique and recommend local experiences. As part of my professional writing, I've produced travel articles in English for The Heart of the Hotel, Travel Curator, Culture Trip, Globe Soup, Fodors, TripSavvy, Intrepid Magazine, Travelstoke, PhotoBlog, Much Better Adventures, Modern Trekker, Adventure Animals, Matador Network, Arrivedo, Inside Himalayas, Activity Fan, and Sonderers. I was part of Arrivedo's expert travel writers and wrote Neighborhood Guides for different hotels worldwide. Eventually, I joined Arrivedo's Editors team and I assisted other writers in completing their Neighborhood Guides for hotels. Here is a list of my articles in general (both on architecture and travels). And here it's a list of my published articles in English (by Iuliana Marchian). Also, I have written in Romanian for the Rulotism, Greciadeweekend, LiterNet, Capital Cultural, and National Geographic journals. Here it's a list of my published articles in Romanian (by Iuliana Marchian).
Moreover, when writing is not enough and people want to hear more about my experiences, I've accepted the challenge to speak in public about my travels. It was difficult at the beginning, but I've gotten used to it now. When you speak about your passions, there's no limit. I share my experiences of traveling through my talks at Incubator107 and inspire people to discover themselves through travel.
* My profiles as a freelance journalist and travel writer on Trav Media, Pangian, Contently, Cloud Peeps, Clear Voice, Ebyline, Skyword, Twago.
Sibiu and Romania National Tour Guide / Trip Designer
Long ago (this means before I quit my job and started to travel more seriously), I was looking for a way to travel more. At that time, becoming a local tour guide and travel with groups of people for a week or two seemed to be the best solution. Several years after, though, I figured out that I needed to travel by myself on a long term basis in order to travel in my style. Being a tour guide allowed me to do that during the low season in Romania. Meanwhile, my concept of being a tour guide has changed and instead of doing this just to travel more, I have started to guide groups and foreigners because I have so much valuable knowledge to share (remember, I have a doctorate in this field !). This way, being a tour guide has been the solution to not only travel the world during the low season, but also a continuation of all my study and research years in architecture, history, geography, and eventually cultural tourism.
On this website you will find a list of tours I can offer in the region of Sibiu/ Transylvania (however, you can customize these tours so please get in touch with me and ask any question that you might have). Also, I am planning a long term road trip in Romania (other regions than Sibiu county), so subscribe to my site Authentic Travels and get updates once I will post more content about Romania. I am listed on the local Sibiu Tour Guides Association, Sibiu Tourism Portal, and on the InfoTravelRomania tourism platform as well as many other touring platforms. As a tour guide, you will find me using my old name.
My Travel Style – slow, authentic, flexible
During my travels, I get in touch with locals through different communities or simply meet them while I am on the road. For the moment, I travel by myself at a slow pace and seek for authentic places, where tourism hasn't yet commodified the features of the place. This is a reason why I love what traveling brings into my life. I believe that the people I meet aren't a coincidence. I see how every day of traveling this way adds a brick to the wall of my self-development. I consider traveling the best method of personal development, accompanied by the classic cliché 'out of the comfort zone'. I want to bring to light human individuality through my travels. I consider that everyone has his or her own travel style, authentic, and free of any boundaries.
This is where you will find a collection of my writing, travel experiences, thoughts, talks, and interviews. Signed, Iuliana Marchian (my name again, for SEO)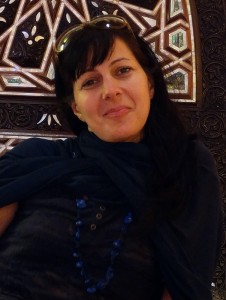 If you are looking forward to working with me as a travel blogger, writer, or author, here is what I can do for you.
Interviews with Iuliana Marchian:
Photo Features:
* If you want to see more of my travel photos, follow my feed and photo contests on Shuttout or on my Facebook page.
* Other photo contests in which I participated: LensCulture – AFAR Travel Photography 2018 , LensCulture – Portrait Awards 2020, LensCulture – Street Photography Awards 2020
Authentic Travels is part of the GoTravelBlogs group – a website featuring a great selection of travel blogs, tourism authorities, and travel guides.